In an ideal world, job seekers and hiring companies would magically find each other online. Job boards (niche or company-specific) can make it easier, but setting one up on your website could be complicated.
There are many job board WordPress plugins out there if you want to use a plugin to create your job board along with your existing theme, but there are also many themes custom built specifically with this niche in mind. If you don't have much skills or time to customize a plugin to match your current theme, it may be a better idea to get a theme built for this purpose, with an already awesome design to create and manage a jobs boards. Plus all of the job features will be fully integrated which means you don't have to install extra plugins or make child theme modifications, this means less testing and setup will be required on your part. Now let's take a look at some of our favorite job board WordPress Themes!
Disclaimer: WPExplorer is an affiliate for one or more products listed below. If you click a link and complete a purchase we could make a commission.
1. JobHive
With JobHive you can create an impressive job board for any business in any niche. This multipurpose job listings style theme is a great option whether you're building a site for tax accountants listings, web design freelancer projects, art school internships or anything else.
Built on the powerful HivePress directory plugin, JobHive has tons of features to build out your own professional Job Board. The theme includes two premium extensions for HivePress memberships ($39 value) and tags ($29 value), in addition to the standard free extensions for paid listings, claim listings, favorites, messages, authentication, geolocation and reviews. This means you can easily create a site to add and manage job listings. Add jobs using the custom post type, then organize by category or with tags (non hierarchal). HivePress also supports an advanced search so visitors to your site can find the right job for them. And with the built-in monetization options for premium paid listings, packages and memberships (for exclusive private job boards) your job board will pay for itself.
Looking to get started fast? Just import the theme's included sample data, which offers styled templates for all the important pages on your job board (like the homepage and individual job listings). Then head to the live WordPress customizer to edit the theme color palette, logo, fonts, homepage settings, and more. The theme price includes a lifetime license with updates, as well as 12 months of top of the line support from the developers at HivePress.
2. JobRoller
The JobRoller Theme is a premium WordPress Theme that will allow your to quickly turn your WordPress installation into a full featured job listings – job board website. This feature-rich theme was built to  be user friendly and to integrate so well with WordPress that you can be online and selling job listings space in just minutes after installation.
Job Roller is not your ordinary WordPress theme. This template has been developed from the bottom up to provide you with everything you will need to create a successful job listings website. The theme uses custom post types and taxonomies to keep all your job listing posts separate from your blog in order to provide you with a dedicated job listing management section – this makes it easier for you to track all your site's listings.
This job board theme comes with a 3 step job submission wizard which will allow your visitors/customers to easily add and pay for new job postings on your website. Your customers will get their own personalized dashboard where they can easily view and re-list their jobs once they have expired. Give your customers the option to have their job listings posted as "featured" so it will be prominently shown at the top of the homepage with a highlighted background. And you can set the specific cost of this option, which is a great way to make some extra bucks.
With the job roller them you won't need any external plugins since everything runs right out-of-the-box with all built in features. Included is a built-in payment gateway so you can start collecting payments for new job listings almost immediately!
3. JobEngine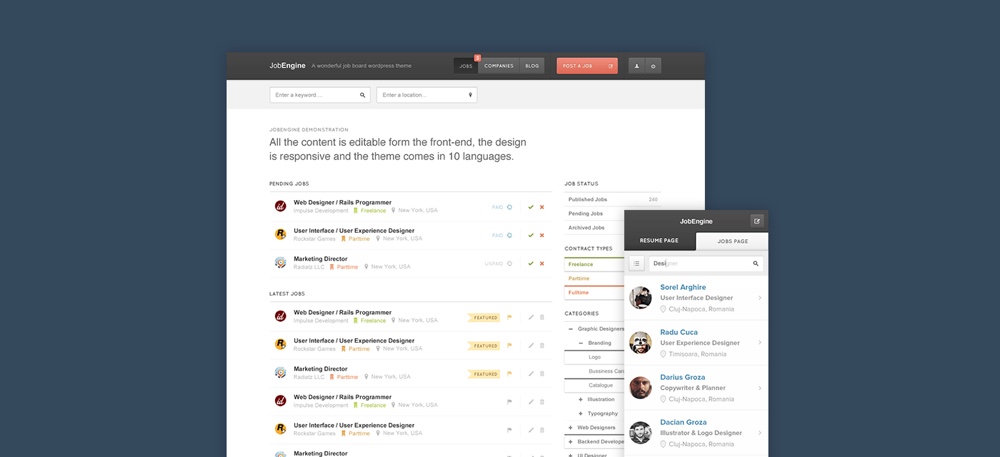 JobEngine is a job board and directory premium WordPress theme developed by EngineThemes. This powerful theme is perfect for creating your own job board website or for creating a page specifically for your business' recruitment. The theme is full of features you (or your HR Department) are sure to love.
This theme makes it possible for your to create and host your own job board website. JobEngine includes useful features to make getting started easy. Just follow along with the setup wizard and use the straight forward front-end editing tools to add your content. Plus there are tons of great custom widgets and job post options (like locations, category, full/part time, etc) so you can add quality content that will be useful to your readers.
If you want you can also monetize your site by offering listing prices or packages to companies. This way they pay you to list their job openings, plus they add the content for the listings, so you can grow your website and your savings account at the same time. JobEngine supports multiple secure payment gateways, so companies will feel comfortable processing payments.
4. Jobify
Jobify enables to you create more than just a job website – you can create a community of employers and job seekers. A fully customizable layout coupled with powerful search and filtering functionality makes this theme a great option. And with it you can create a modern and bold job board and listings website in no time.
Temp agencies and job placement service companies are thriving, so it makes sense to create a WordPress template specific to this niche. Jobify does just that. With this theme and a handful of plugins you can expertly manage a job board and listings based website. With "Simple Paid Listings" you can start generating revenue right away by charging for companies to post their openings, which you manage and approve/deny.
For users, it's easy to find the perfect job. They can use the live search if they already have something in mind. Or visitors to you site can browse listing categories by visiting the category pages themselves, or by using the filter options on the main job board page.
5. WorkScout
WorkScout is a beautiful premium theme designed for the WP Job Manager plugin covered earlier. It provides advanced filters for searching jobs, including a salary or rate filter. You can further extend WorkScout's functionality through paid WP Job Manager add-ons for application management, resume management, and job alerts, among others.
6. JobSeek
JobSeek is another premium theme built for the free WP Job Manager plugin. Recruiters and companies can post, edit and manage job listings via the front end, and job seekers can manage their resume and profile. Jobs on the site can be searched and filtered by category, job type, keywords, and location, with jobs being shown on a map.
7. Jobmonster
Jobmonster is a premium jobs board theme designed to be a complete job portal. No plugins are needed to provide job functionality, as it includes front end dashboards for employers, candidates, and administrators. Employers can sign up for job post packages and manage jobs and applications, including accepting and rejecting candidates. Candidates can apply for jobs using their online resume, by uploading a resume, or by connecting their LinkedIn account.
8. FreelanceEngine
FreelanceEngine is a freelancer marketplace premium WordPress theme. This theme makes it easy for you and your colleagues to build profiles, post projects, bid on them and more.
Today more and more people are working for themselves. In fact – you're probably one of those people. So why not create a place where like minded folks can connect, and others can post projects that they need help with. FreelanceEngine is the perfect theme fore just that – creating a marketplace to connect jobs with freelancers.
A great part of this theme is it's  flexibility. Built with the Visual Composer, you can drag & drop page elements to create any page layout you need. Plus the theme includes options for user profiles, project payments, and even user reviews.
Other theme features include unlimited color options via the awesome theme customizer, lots of widgets, a useful admin panel, the premium Revolution Slider plugin and more. And with 12 months of great support included, FreelanceEngine is a great theme for your marketplace!
9. Responsive Job Board
Job Board is a premium responsive job listings directory WordPress theme developed by PremiumPress. This detailed theme was designed for creating job posting sites like Monster, CareerBuilder or Freelancer.
The market is bouncing back, which means that employers are looking to hire new employees. With new positions being created up they need to spread the word about their job openings and find quality employees. So why not create a website where employers can post job listings? With Job Board you can create your very own jobs site where companies and small businesses can list their open positions and users can submit their resumes to apply.
This theme includes support for membership packages, so you can charge employers to add their listings. You can also create recurring payments for listing subscriptions so employers can maintain their current listings and add new ones each month. Job Board also includes full user profiles. This way applicants can create accounts with their contact information, a profile picture and any relevant application information (resume, cv etc.). Once they've completed their profile, users can browse your job site using the advanced search to find jobs according to category, location or keyword. Then applying is as easy as clicking a button.
Other great features of Job Board include social integration, private messaging, listings by member, package add-ons support, a full blog and more. The list below covers more features of this comprehensive job listing theme.
10. HireBee Crowdsource Job Board
HireBee is a unique crowd sourcing marketplace job board premium WordPress theme from AppThemes. This lovely niche theme is a great way to create your own job-bidding style site where users can post projects to have companies and freelancers bid on them.
More and more people are leaving the traditional corporate world to work for themselves or for small agencies. This is awesome since they can specialize in various fields (web design, graphic design, Ruby On Rails, WordPress, etc) and get the job done better than some of their large name competitors. So why not help-out small businesses and start your own website to pair freelancers with businesses that have projects to outsource (just like Elance and Freelacer), while taking a nominal cut of each project of course.
The beauty of HireBee is that it takes the hard part out of creating your own crowd sourced job board. All the features you need are already built-in. The theme already includes options for you to charge employers to post their listings, or to have their listing featured. Plus the powerful form builder makes it easy for you to create custom project forms with any custom fields you might need so that freelancers understand the project heir bidding on. And once a project has been assigned to a freelancer, HireBee includes a custom workspace that can be accessed by both the freelancer and hte employer so they can stay on track with the project.
Other great theme features include user profiles, custom dashboards for employers and freelancers, project filters, project matching, term negotiations, easy file uploads, pricing plans and more. HireBee is ready to rock and roll, all you need is a domain and a WordPress hosting plan and you can have your very own job board up and running in no time at all. You can see more theme features listed below.
11. Cariera
Cariera is a professional oriented WordPress theme carefully crafted for employers and job applicants. It is the expert on job boards, stats and listings. Try it out with different homepages and super easy one-click demo importer which sets your website up and running within minutes.
Cariera is built with tons of premium quality plugins integrated. The theme comes with Visual Composer – one of the most popular page builders with tons of custom featured elements. And that's not all… Being able to customize every single layout aspect is Cariera's unique strength. Unlimited colors, google fonts, movable sidebars, multiple headers & footer and combining it with one of the most popular plugins Slider Revolution to make amazing galleries and sliders and give your website a stunning effect.
A light weighted theme with high speed performance enhancement, adaptable for all screens and browsers with retina ready quality will definitely be the perfect place for companies and job aspirants to connect. All visitors will love how easy our theme is with its modern job search filters, CV submission processes and contacting with candidates/employers via contact form 7 and always being the first to know the latest news by being a subscriber by using Mailchimp subscription plugin.
Selling your own goods will definitely be a plus and with Cariera and that is just a few clicks away with the unique WooCommerce integrated design. And the best thing is that the theme supports WPML which makes it multilingual and ready for any language that you might want to translate.
12. Nine to Five
Nine to Five is a clean and powerful premium jobs theme with a full range of functionality. You can add custom information to jobs like salary and benefits, or create your own job filters (e.g. full-time, internship) to enable job seekers to find their perfect post.
13. Jobera
Jobera is a beautiful premium jobs board theme powered by a built-in drag-and-drop page builder. Employers, recruiters, and job seekers can be provided with portals to interact with jobs and resumes. It is compatible with the WP Job Manager plugin as well as many of its add-ons, so you can create a customized job portal with the specific functionality you desire.
Conclusion
While getting jobs posted on your site and attracting job seeker traffic can be a challenge, getting a jobs board up and running on WordPress doesn't have to be a challenge.
From our list, you should be able to find the perfect plugin or theme to create a jobs board that meets your needs. If you've been thinking about setting up a jobs board, there's nothing standing in your way – just pick one and get started!
Have you set up a jobs board before? Did you use any of these plugins or themes? We would love to hear about your experiences in the comments section below!